If you are not use AMP- or accelerated mobile pages… you need to start, like RIGHT MEOW! Ok, so maybe you have heard of AMP, and maybe you have not. Basically it is an effort spearheaded mainly by Google to give mobile users a better faster web. Let's take a look at what the official site has to say,"For many, reading on the mobile web is a slow, clunky and frustrating experience – but it doesn't have to be that way. The Accelerated Mobile Pages (AMP) Project is an open source initiative that embodies the vision that publishers can create mobile optimized content once and have it load instantly everywhere."
Faster loading pages and posts means you will be happier right? If you as a consumer of content are happier with faster load times, wouldn't your subscribers or readers be as well? We already know that page load times are a ranking factor in Google's Algorithm. Google is also showing AMP results for search terms that have frequent news updates, try Googling "UFC" or "Lebron James" And these results Pop Up: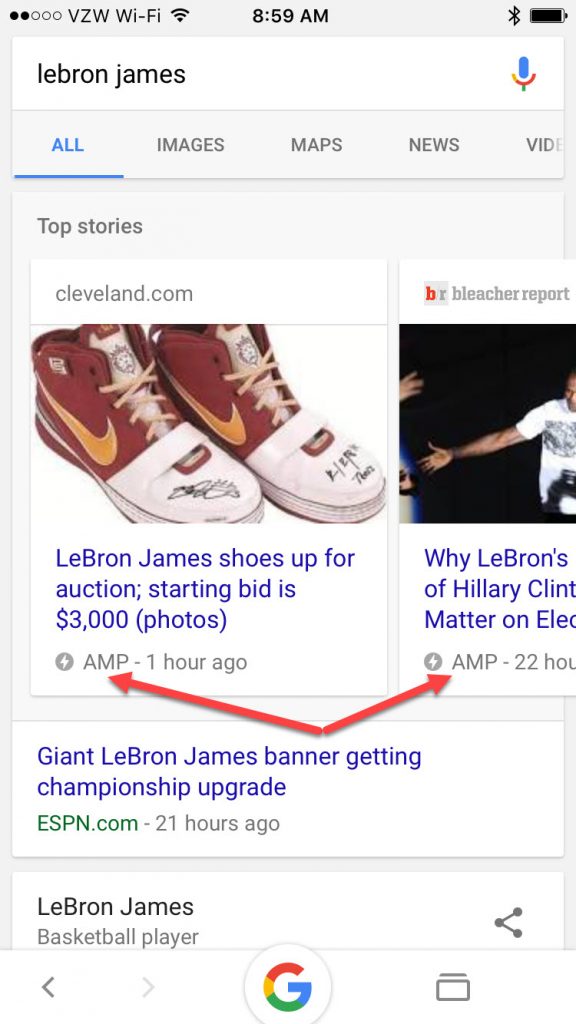 As you can see Google is displaying AMP results at the top of the SERPS, so in certain, but not every news related search, Google is favoring the faster loading AMP results.
Is AMP not showing up for your industry yet? Well, that does not mean you should not prepare for it. It's similar to the semantic web. Just because it is not a massive ranking factor, does not mean that you should not use JSON-LD or other schema to define and build your brand. In fact the early adopters like in most new tech developments are the ones that get the biggest push or results particularly as it relates to Google, and ranking higher in their search results.
So whether you are publishing your own content or using a content marketing agency to do it, make sure that your website is ready for AMP RIGHT MEOW!
via GIPHY
Here is a link to some AMP plugins for wordpress.