Google is pushing people toward "Near Me" search types, and populating many "auto suggest" terms when you type in phrases like "Gyms Near Me".  Don't believe me? Open up your cell phone and type that into your device. See what is the first auto suggest term that pre-populates.
Why Is Google Pushing "Near Me" So Hard?
Google is calling instances where people have an immediate need to know, buy, or find something, "Micro Moments".  These micro moments need a result delivered quickly to solve a point of pain. People are looking to find breweries, restaurants, coffee shops, ice cream places and others while on the go.  Think about when you are on vacation. You are walking or driving around a new town and are wondering where to go. Do you stop a stranger and ask them where to eat? Ok, I do but I'm not anti social.  I take what they say and then I "Google" the restaurant's reviews online to see if I would like to eat there. Additionally I'll look for other results from the "restaurants near me" search on mobile.
Increase Of Near Me Search Results Infographic-MasterMindSEO.org
The Rise Of Micro Moments And The Need To Deliver Instantaneous Geo Specific Results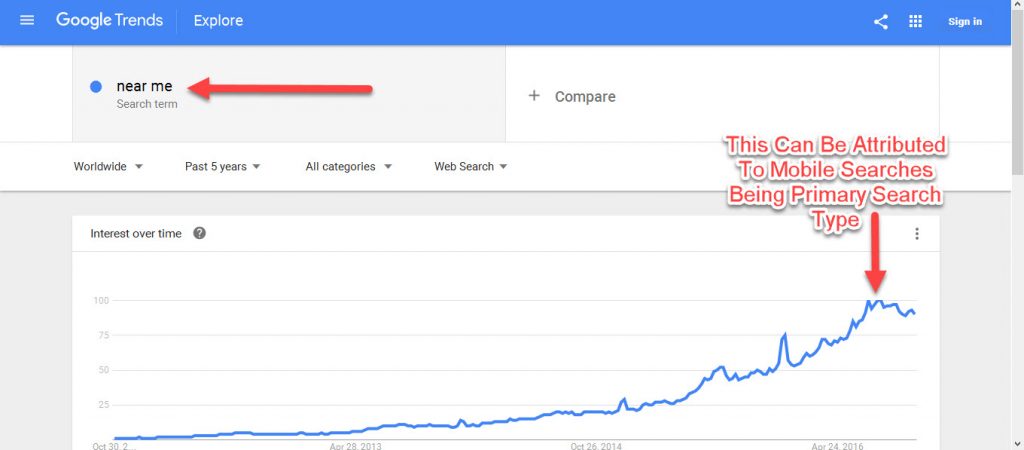 Yep, mobile has been the reason there is such a massive uptick in "near me results". With mobile devices, people search differently. Some use SIRI, others use Google Now's speech to text search tech. So when you are speaking into your device you will ask for different things. Example, "Find a chinese restaurant in Toronto" vs typing a search into your device, most people will type something like, "chinese res" and then stop because "chinese restaurants near me" will pop up on their device and they will simply click it.
Two Types Of "Organic Listings" Results For Near Me Searches
True organic listings which show 1-10, and MAP rankings, which show the blue "directions" button on mobile as well as the "call" button on mobile. With AMP (Accelerated Mobile Pages) becoming a "legit thing" that publishers and web site owners should be focusing on, how can you capitalize on delivering super fast loading answers and results? AMP up your content!
So How Do I Optimize My WebSite For Micro Moments?
Well, having a steady publishing strategy will help build relevance to your website. If you have blog posts that are content rich, have great images or infographics, and also inner link to your top level sales pages (where people actually buy or get directions- typically a product sales page or the home page) then you will help build trust and authority in the eyes of Google.
You can add a specific page to your site that targets the exact query for "Near Me Searches". So if I am looking to rank for "SEO Companies Near Me" in Las Vegas, I would build out a page "mastermindseo.org/seo-companies-near-me-las-vegas", that is not an actual url I built just FYI. In the Title Tag I would include some variation of "SEO" or "Search Engine Optimization Agencies Near Me".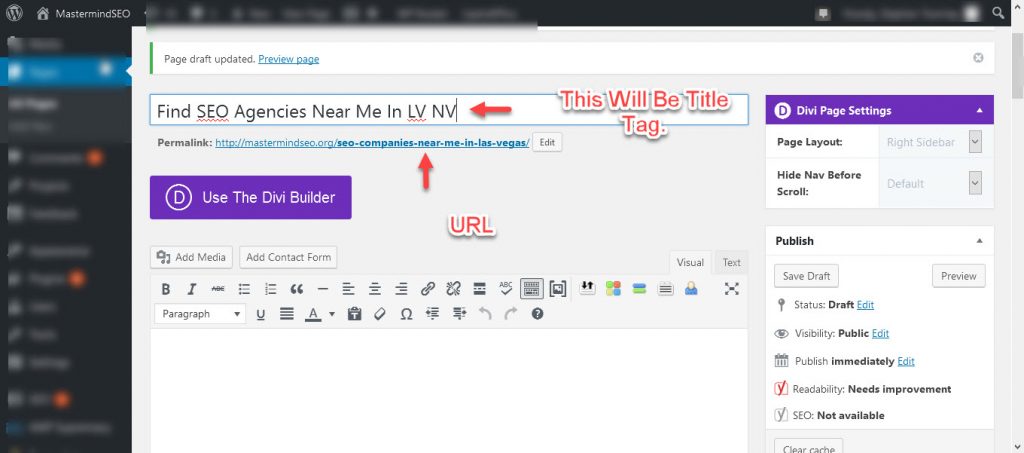 This is a solid basic strategy to help you on page get tighter and increase your chances of coming up in the SERPS for "Near Me Searches". If you want to learn more about Optimizing Your Google My Business listing for greater visibility in the MAP listings you can apply lots of these same principles I mentioned above.