Enjoy Las Vegas Strip with the following best tours:
Las Vegas Lights Night Tour by Open-Air Jeep
The Las Vegas Lights Night Tour provides a 3.5-hour tour to the best spots along Las Vegas Strip using an open-air jeep with driver. The best spots include the dancing fountains at Bellagio, light show at Freemont Street, and the filming location of the TV show "Pawn Stars." The night tour usually costs around $82.
The dancing fountains at Bellagio
https://www.facebook.com/Vegas/
The Freemont Street Experience
https://www.facebook.com/Vegas/
Las Vegas Strip Night Flight by Helicopter
 This 8-minute helicopter tour gives you a view of the colorful Las Vegas Strip. Usually, there is a champagne toast before the flight. From up above, you can view down the dazzling lights of the Stratosphere, Bellagio, the Freemont St. and so much more. The helicopter tour usually costs around $90.
The visible Stratosphere in a night helicopter tour
https://www.facebook.com/Vegas/
Las Vegas Night Tour in Limousine
 To further feel the luxurious Las Vegas life, you can take a night tour along the Vegas Strip through a limousine with driver. The 3.5-hour limo tour allows you to stop and watch the outdoor shows. A complimentary bottle of champagne is also usually available during limo night tours. The prices for the limo tour range from $190-$500, depending on the kind of limo you will be using.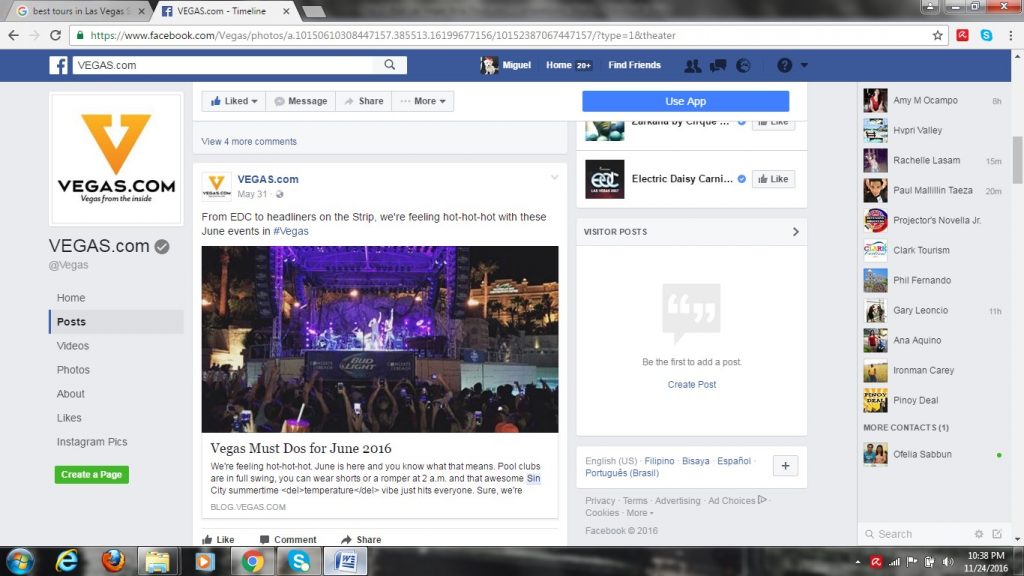 Limo night tours allow you to stop-over the always lively Sin City in Las Vegas Strip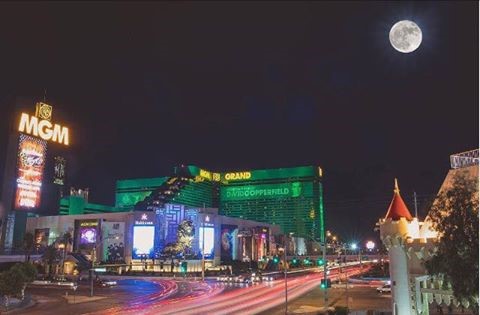 The MGM Grand facade
Party Bus Tours
Party tours usually come in a bus wherein your group of friends can enjoy club hopping in Las Vegas. Aside from visiting various clubs, you can also have your own parties inside the bus. The tour comes with a host and some drinks. The typical rate for party tours is around $90.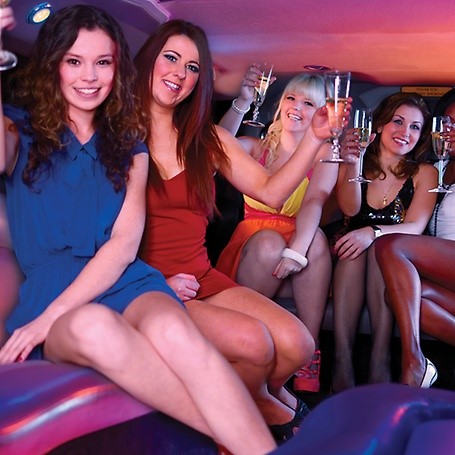 Ladies' squad enjoying the party bus tour
https://www.vegas.com/tours/las-vegas-tours/club-crawl/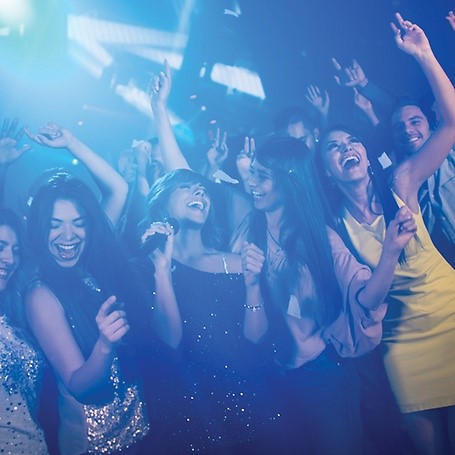 Club Crawl
https://www.vegas.com/tours/las-vegas-tours/club-crawl/
Hog Car Tours
 Do you want to tour the Las Vegas Strip in a cute pink hog car? Then, this is the best tour style for you. Visit and take photos of various attraction sites at the Strip either during day time or at night. You will be guided by a host/driver. Complimentary foods and drinks are also available during the tour. Rate is usually around $270.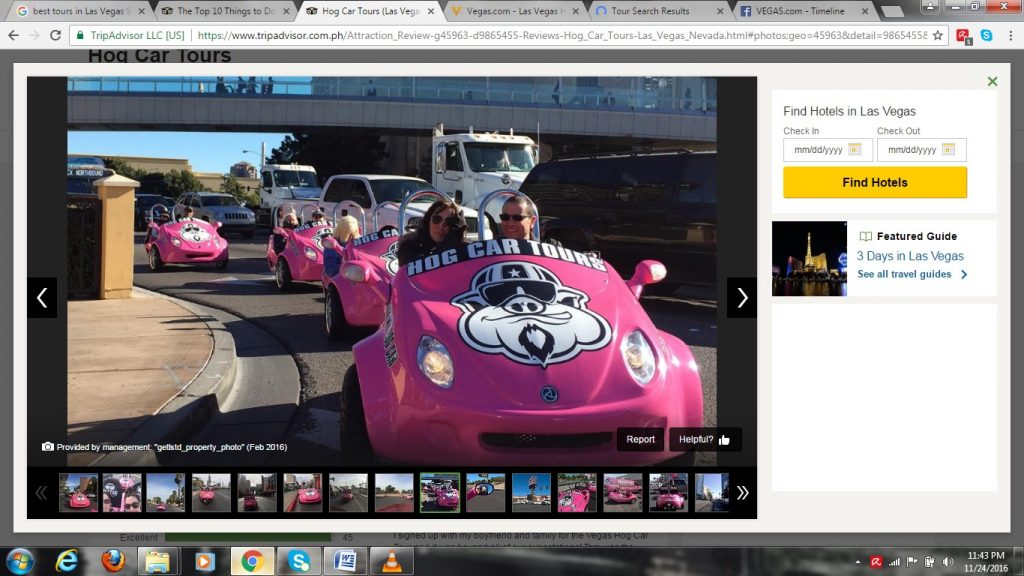 Roam around Las Vegas in a cute pink car
https://www.tripadvisor.com.ph/Attraction_Review-g45963-d9865455-Reviews-Hog_Car_Tours-Las_Vegas_Nevada.html#photos;geo=45963&detail=9865455&ff=173337849&albumViewMode=hero&albumid=101&baseMediaId=173337849&thumbnailMinWidth=50&cnt=30&offset=-1&filter=7
You can drive around Las Vegas Strip with Hog's car
Big Bus Tours
Big bus tours are available when taking a tour around Las Vegas Strip. Big buses have open-air roof deck which gives guests a wider view of Las Vegas. Tickets are usually around $3-$4.
Big Bus tours for both day and night tours
Walk Tours
 You can also get up close and personal with Las Vegas through walk tours. This can be a little bit challenging because you have to walk the entire Las Vegas Strip. Be sure to wear comfortable shoes. There are tour guides who can guide you with this walk tour. Their rates vary, depending on the number of places you want to visit as well as its distance.
Private Plane Tour
 Customized private aircrafts are also available for night tours around Las Vegas. The interior of these planes are customized in such a way that guests are comfortable and lounging while enjoying a bird's eye view of the magnificent Las Vegas Strip. This 30-35 minutes trip usually costs around $90-$200.
The Love Cloud private plane
You can view the Mirage Volcano from up above
Race Cars Tour
You can use the race car of your dream while touring around Las Vegas Strip. You can visit various attraction areas and famous spots while onboard luxurious SUV. You can opt to self-drive or have a driver for this tour. Rates are usually from $100-$200.
Speed Vegas
American muscle cars
Nomad Walking Tour
 Some people say that one of the best ways in enjoying Las Vegas is to have your own tour. This means no vehicle and no tour guide. You just have to walk alone the Las Vegas Strip and enjoy the comfort of your own self as you visit various tourist spots. No expenses for tour guides or tour vehicles for this purpose.
Shop and enjoy the M&M's World
The Hollywood Cars Museum