I really do love using Visme. It is a super easy to use program. I highly recommend anyone who is looking to make a fantastic graphic, presentation or infographic to look into using Visme. Not being a photoshop pro, I always thought making great graphics was not in my wheel house. I had to wait days on Fiverr or similar sites to get a great graphic. Now, takes about 7 minutes to get an amazing and engaging infographic. You should check them out!
What Visme Looks Like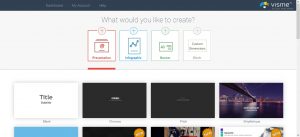 Stephen Twomey is a digital marketing and SEO expert.Stephen is the founder of
MasterMindSEO
.
Latest posts by Stephen Twomey (see all)